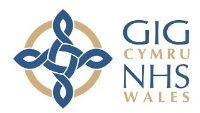 Sign in
NHS Wales Authentication Services,
managed by Digital Health and Care Wales.

By logging onto this computer system you are confirming that you are an authorised user and that access to the personal information of individuals recorded herein is for the legitimate purpose(s) of your role and your employer. Access to information that you are not entitled to see, or misuse of data within this system is a breach of policy, the Computer Misuse Act (1990) and data protection legislation.

You are responsible for the actions taken on your account. Do not allow others to use your login details and always logout of the system after use. Access to and use of electronic systems is subject to audit. Unauthorised access to, or use of, information could lead to disciplinary action and prosecution, the outcome of which could be termination of employment, deregistration and a criminal record.